Blog Archives
Para responder a esta pregunta planteada en el Mooc de Intef de Educación Expandida, voy a apelar a lo trabajado en un curso reciente que realicé en Escuela de Maestros: "La producción de imágenes fotográficas: haciendo foco sobre nuevos sentidos". Allí tuvimos que modificar una pintura y una fotografía para crear una imagen con nuevos significados. He aquí el producto final: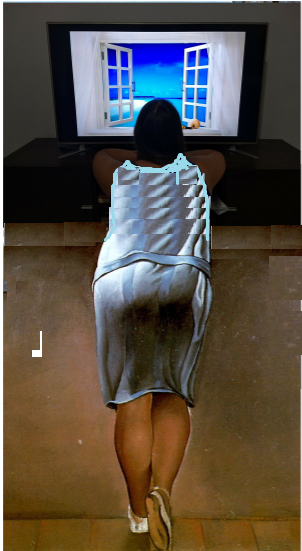 Considero que esta imagen define mi labor docente diaria dado que soy muy curiosa: me gusta mirar, explorar, buscar nuevos rumbos, fusionando lo tradicional (la pintura de Dalí) con lo nuevo (las tecnologías presentes en la imagen digital que vemos en la tele).
I have just come back from my holidays and surfing the net I stumble upon this wonderful new online dictionary. It is full of wonderful and very telling pictures.  Apart from that, the pictures are labelled with terminology in up to 6 languages. It is very useful for those moments in which we cannot match the words with images or the other way about.
If you are more interested in collocations than in images, I have also something for you: The Oxford Collocations Dictionary is online. It is worth giving it a look.
Hope you find it useful. Have to go and unpack. See you later!
I have already told you that I have become a twitter-addict in a certain way. In this short week I have spent there…Is it a week already? It must be less than a week, but taking into account the amount of information I have received, it seems as if I have been in Twitter for a whole year.
I have just received a message in Twitter from a person I'm following (Courosa) sharing a great link: http://www.twitxr.com/ . This application allows you to share pictures in Twitter. You just have to sign in, enter your Twitter account name and your password. Then, you write a short message and upload a picture. The message with a link to the picture will be sent to all your Twitter followers.
I have just tried it out (I'm also sabridv in twitxr. I'm not that original) and it worked well. The only thing you have to take into account is that when you write the message, make sure you write less than 100 characters. If not, in the Twitter message the link to the picture would be broken, because there is not enough space (remember that Twitter allows you to write only 140 characters). Have I been clear enough?
I don't know what we can use this tool for, but I like it. If you have any ideas, why not sharing it with us in the comment section? Looking forward to your answers.