Blog Archives
Hoy las nuevas tecnologías nos permiten estar en cualquier momento en cualquier lugar sin la necesidad de desplazarnos físicamente hasta allí. Hablamos con nuestros familiares que viven en otros países por Skype, somos partícipes del teletrabajo que nos permite asistir a una reunión de negocios en pantuflas, y nos juntamos con nuestros amigos que tienen una agenda tan apretada como la nuestra por Whatsapp. Sin embargo, la escuela sigue requiriendo nuestra presencia física y se erige como el edificio donde se imparte la EDUCACIÓN. Todo lo que sucede por fuera de ella, no importa, no sirve. Los muros se levantan para dejar el mundo afuera.
La Educación Expandida nos viene a liberar de esta prisión. Nos permite abrir ventanas y mirar para afuera. Conectar con el afuera y con nosotros mismos. Aprender todo el tiempo y en todo lugar. Derribar no solo los muros de la escuela, sino también los límites que la estructura tradicional impone.
En palabras de la gran poetisa Argentina Liliana Bodoc:
Primera persona
Yo, primera persona del singular.
Yo tengo
Pero Yo no soy Tengo
porque
si un huracán se lleva todo
y me deja tan solo con lo puesto.
Yo seguiría siendo.
Yo estoy.
Pero, atención,
porque aunque cambie de lugar,
aunque cambie de barrio y de ciudad
yo sigo siendo.
Por las noches yo duermo
pero no soy Dormir
porque cuando despierto
sigo siendo
Yo canto.
¿Y si no canto?
Yo juego.
¿Y si no juego?
Yo estoy aqui y allá
yo tengo, yo no tengo
yo canto y desencanto
yo esta tarde no juego
pero yo sigo siendo.
Yo soy yo cuando Soy.
No soy Tener.
No soy Estar.
Yo soy
Ser
en primera persona del singular.
Para responder a esta pregunta planteada en el Mooc de Intef de Educación Expandida, voy a apelar a lo trabajado en un curso reciente que realicé en Escuela de Maestros: "La producción de imágenes fotográficas: haciendo foco sobre nuevos sentidos". Allí tuvimos que modificar una pintura y una fotografía para crear una imagen con nuevos significados. He aquí el producto final: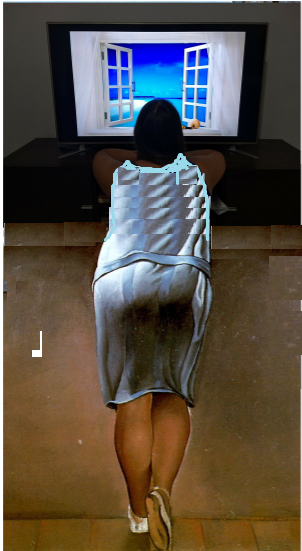 Considero que esta imagen define mi labor docente diaria dado que soy muy curiosa: me gusta mirar, explorar, buscar nuevos rumbos, fusionando lo tradicional (la pintura de Dalí) con lo nuevo (las tecnologías presentes en la imagen digital que vemos en la tele).
There 's been a lot of talking about drawing in the classroom lately. @kalinagoenglish and @eherrod have both provided us with ideas on how to remember vocabulary by drawing here and here.  Apart from that, @harrisonmike has shared in his blog a fun activity in which students end up drawing collaborative monsters. Finally, @ddeubel gives us plenty of tips on the topic in his blog.
The activity I want to share with you today is another collaborative drawing. With my 5th grade students we read the adapted version of  The Adventures of Tom Sawyer by Mark Twain. In fact, my students didn't read the story, I read it to them, one chapter per class. I soon realised that some of them were not engaged in the activities we did about the novel, since they found it very difficult to understand, or they had some problems expressing their ideas.
In order to try to reverse this situation, I came up with this activity. Pretty simple, but my students loved it.  I read the chapter assigned to that class in small chunks. When I stopped reading, my students had to draw what they had heard (i.e the part of the story I had read). Once they finished, they had to pass the paper to the person sitting on their right. This was repeated many times till the chapter finished. In the end, we had lots of collective comics drawn by my students. I decided to make them pass the papers round, so that those students who weren't good at drawing wouldn't feel embarrased, since different parts of all the  final products had been drawn by different students. Here you can see some of the comics :
I have to admit that I was not a great fan of using drawing and art in the English classroom. However, since I started using it, I have realised that it has a magical effect. Not every student is good at English, not all students are motivated and interested in our classes, and it is generally the case that precisely those students are the ones that get involved the most in drawing activities.
When I did the activity I presented here with my class, my students didn't want to go to the break as they wanted to continue drawing. One of the girls who finds it really hard to understand the English language, came to me and asked me if we were going to do this activity again, as it was "re divertida". That really made my day, and determined me to let art occupy a big space in my classroom.