¿Qué producto cultural define mi acción docente diaria?
Para responder a esta pregunta planteada en el Mooc de Intef de Educación Expandida, voy a apelar a lo trabajado en un curso reciente que realicé en Escuela de Maestros: "La producción de imágenes fotográficas: haciendo foco sobre nuevos sentidos". Allí tuvimos que modificar una pintura y una fotografía para crear una imagen con nuevos significados. He aquí el producto final: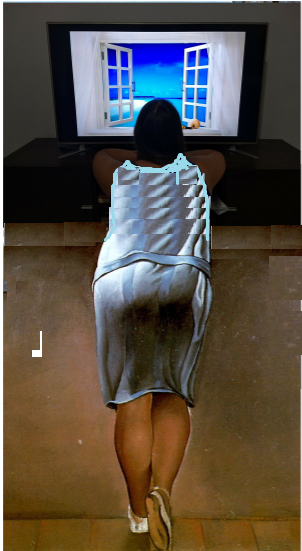 Considero que esta imagen define mi labor docente diaria dado que soy muy curiosa: me gusta mirar, explorar, buscar nuevos rumbos, fusionando lo tradicional (la pintura de Dalí) con lo nuevo (las tecnologías presentes en la imagen digital que vemos en la tele).
Posted on February 26, 2018, in courses, Reflexiones sobre educacion, web 20 and tagged #EduExpandida, art, educacion, media, pictures, reflections, web 20. Bookmark the permalink. 3 Comments.